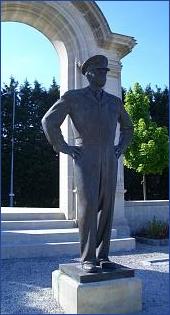 Eisenhower, Bayeux, France
The U.S. Federal government, via the American Battle Monuments Commission, beautifully cares for 24 overseas cemeteries and 25 memorials. They have neither the authority nor the resources to care for thousands of other sites honoring Americans.

American War Memorials Overseas has the following objectives regarding these other sites:
Record the existence and location of non-government supported war memorials honoring Americans overseas and make this information available to the public.
Encourage cultural tourism to visit these historical sites.
Encourage and facilitate local communities to fly the American flag over private war memorials honoring Americans.
Monitor the condition of these war memorials, and encourage their conservation.
Provide expert advice to those involved in war memorial projects, and facilitate maintenance projects for sponsoring organizations.
Work with communities and organizations to encourage local responsibility for war memorials, and to recognize the need to conduct restoration work on these monuments as required.
Build a greater understanding of war memorial heritage and raise awareness of the issues surrounding war memorial conservation.