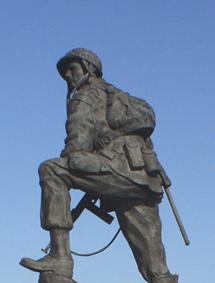 Iron Mike, Cauquigny, France
American War Memorials Overseas uses Regional Volunteers and Independent Researchers to help achieve our objectives. If you are interested in military history or if you live or travel extensively overseas, please consider a volunteer position with us.


Regional Volunteers
American War Memorials Overseas uses Regional Volunteers to help carry out several important functions:
Monitoring and reporting on the condition of war memorials
Researching and surveying war memorials
Working with others in their area to preserve war memorial sites
Regional Volunteers generally live or travel extensively in an area overseas where American forces fought.


Independent Researchers
American War Memorials Overseas uses Independent Researchers to research War Memorial history:
Search local records to determine why a memorial was erected, who owns it, when it was dedicated, who cares for it
Research the service records of Americans honored on overseas memorials or buried in isolated gravesites
Research the unit records of American units honored on overseas memorials
Independent Researchers have a passion for military history, and experience researching various government and private archives.
If you are interested in helping American War Memorials Overseas document, promote, and preserve America's overseas war time legacy by working in a volunteer position, please contact us at info@uswarmemorials.org.