Monuments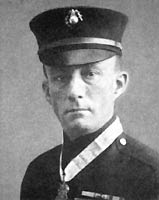 Date of Death:
1930-05-14
Cemetery:
Evergreen Cemetery, Brooklyn, New York
Decoration:
Army and Navy Medal of Honor
Comments:
Was born in Brooklyn New York on August 17 1878 and was also known as Charles Hoffman. Ten years of service with the Army, 4 enlistments with the Marine Corps. Severely wounded at Chateau Thierry on 6 June 1918 and was awarded both the Army and Navy Medals of Honor. Died after a brief illness on Long Island on 14 May 1930.