Monuments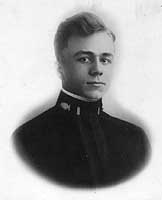 Rank:
Lieutenant (Junior Grade)
Date of Death:
1918-06-06
Cemetery:
Aisne Marne American Cemetery, Belleau, Franc
Decoration:
Medal of Honor, Distinguished Service Cross and Italian Croix de Guerre
Comments:
Was born on November 13 in Chicago Illinois and educated as a dentist. He was assigned as a US Navy Dental Surgeon to the 6th Marine Regiment. On June 6 1918 during an attempt to rescue a wounded officer he was killed at the Battle of Belleau Wood.