Monuments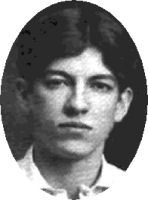 Unit:
French Foreign Legion
Date of Death:
1916-07-04
Cemetery:
Ossuary de Linons, Linons, France
Decoration:
Médaille militaire, Croix de guerre 1914-1918 avec palm
Comments:
Born 22 Jun 88 in New York City, Seeger was an American poet who among many others volunteered to fight for France in World War I. He entered Harvard College in 1906 and edited the Harvard Monthly in his senior year. He moved to Paris in 1912, and in 1914 Seeger enlisted in the French Foreign Legion. He served in the 2e régiment de marche du 2e REI (régiment étranger d'infanterie), 1re section, bataillon C, 11e compagnie. He was in action at Belloy-en-Santerre, and is buried in the ossuary in Lihons (80). He is most celebrated for his poem "I Have A Rendez-vous with Death".