Monuments
The Lafayette Escadrille Memorial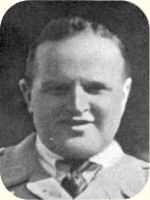 Name:
Arthur "Bluey" Bluethenthal
Unit:
Lafayette Escadrille
Date of Death:
1918-05-06
Cemetery:
Oakdale Cemetery, Wilmington NC
Decoration:
Croix de Guerre with palm
Comments:
Born November 1, 1891, in Wilmington, North Carolina. Son of Leopold and Johanna Bluethenthal. Educated Phillips Academy, Exeter, and Princeton University, Class of 1913. Business, Tobacco Products Corporation, New York. Joined American Field Service, May 6, 1916; attached Section Three, France and Balkans, until May 11, 1917. Croix de Guerre for conspicuous bravery around Verdun. Enlisted French Aviation, June 7, 1917. Trained Avord and Pau. Breveted September 22, 1917. Leave in America. Attached observation groupe, Escadrille Bréguet 227, March 17, 1918, Sergent. Killed in combat over the lines, near Maignelay, June 5, 1918, region of Amiens.