Monuments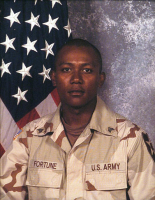 Name:
Maurice Keith Fortune
Unit:
2nd Battalion, 17th Field Artillery Regiment
Date of Death:
2004-10-29
Cemetery:
Clark Veterans Cemetery, The Phillipines
Decoration:
Bronze Star, Purple Heart
Comments:
Sergeand Maurice Keith Fortune, son of retired U.S. Air Force Technical Sgt. Littleton John Fortune. Maurice Fortune was born on 7 October 1979 and was killed by an IED in Ramadi, Iraq on 29 October 2004.