Monuments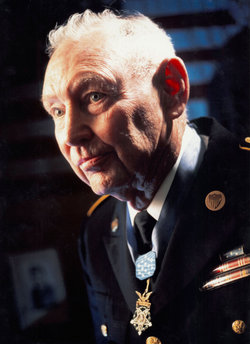 Name:
William John Crawford
Unit:
142nd Infantry Regiment, 36th Division
Date of Death:
2000-03-15
Cemetery:
USAF ACADEMY CEMETERY
Decoration:
Medal of Honor; Prisoner of War Medal
Comments:
World War II Congressional Medal of Honor Recipient. He was a Master Sergeant in the US Army. He was awarded the Medal of Honor as a Private in 3d Platoon, Company I, 3d Battalion, 142d Infantry, 36th Infantry Division for action near Altavilla, Italy on September 13, 1943. CITATION READS IN PART: "When the platoon, after reaching the crest, was once more delayed by enemy fire, Pvt. Crawford again, in the face of intense fire, advanced directly to the front midway between two hostile machine-gun nests located on a higher terrace and emplaced in a small ravine. Moving first to the left, with a grenade he destroyed one gun emplacement and killed the other and with one grenade and the use of his rifle, killed one enemy and forced the remainder to flee. Seizing the enemy machine gun, he fired on the withdrawing Germans and facilitated his company's advance." After the battle he was presumed dead, but was taken prisoner where he was imprisoned in Stalag 2B Hammerstein. After the war he continued to serve and retired as a Master Sergeant in 1967. President Ronald Reagan presented him with the Medal of Honor at the US Air Force Academy, where Crawford worked, in 1984.