Monuments
The Lafayette Escadrille Memorial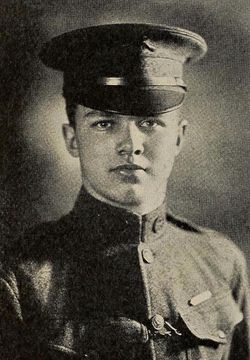 Name:
William Hallet Tailer
Unit:
Lafayette Escadrille
Date of Death:
1918-02-05
Cemetery:
Lafayette Escadrille Memorial, Marnes la Coqu
Comments:
Of Roslyn, New York, Tailer was a Sergeant in the 7th Regiment, N.G.N.Y. before he joined the Lafayette Escadrille. Although his vision in one eye was defective, he made an excellent sharpshooter and flier. He was killed in combat killed on February 5, 1918.
br> WILLIAM HALLET TAILER
TAILER'S progress through the schools was brilliant, and when, on December 14, 1917, he was sent to the Escadrille Spad 67, of the famous Groupe of Cigognes, he seemed assured of an equally brilliant future. Less than two months later he was buried at the Front.
A friend, writing in the columns of the Paris Herald, said of Tailer: "He was as fine a type of the rising generation of Americans as you could wish to meet . . . endowed with one of the rarest natures, a cheerful spirituality which looked only on the bright side of life. Billy . . . was a member of the . . . 7th Regiment, passed some time on the Mexican Border, and afterwards passed into the Aviation Service, where he made extraordinary progress. It seems but yesterday that he left his home to take his first lessons in the new art. . . . He was one of many in the village of Roslyn to volunteer for service. . . and is, I think, the first of these to go."
On February 6, 1918, the day after Tailer's death, another Lafayette man, attached to the Cigognes, wrote: "Yesterday William H. Tailer of Spad 67 was killed while flying patrol over the lines. As the Captain made a virage he saw Tailer's machine fall nose down and go into a vrille from which he never pulled out. Some officers on the ground saw him fall. At about a thousand meters he lost both wings and the plane crashed about three kilometers back of the lines. No one can say definitely what happened . . . they were being shelled by German anti-aircraft. The consensus of opinion is that he must have been hit. I am trying to have a firing squad of U.S. Regulars to render the last military honors. First Phil Benney and now Bill Tailer . . . two of my best friends and two of the finest boys who ever lived."
Source - Google books "The Lafayette Flying Corps, Volume 1" by James Norman Hall, Charles Nordhoff, Edgar G. Hamilton, Houghton Mifflin publisher, 1920.