Monuments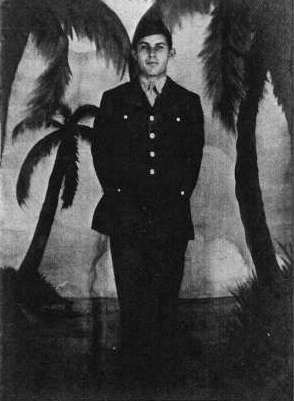 Unit:
3rd Replacement and Training Squadron
Date of Death:
1944-04-10
Cemetery:
Saint Nicholas Cemetery, Aurora, Illinois
Comments:
Jimmie Gyovai was born on December 18, 1922, in Julian, West Virginia. He was the son of Steve Gyovai and Ethel Papai Gyovai. He grew up along with his seven siblings in Red Dragon, an old mining town in the Sherman District of Boone county, West Virginia. After leaving Whitesville High School he went to work with his father and brothers, Louis, Joseph, and Frank at Red Dragon mine.

On October 25, 1942, he left the mine and enlisted in the Army Air Corps at Fort Thomas, Newport, Kentucky. After completing his training as an Engineer/Air Gunner, he sailed to the UK to complete his training at the Combat Crew Replacement Centre, Toome, Northern Ireland.

On April 10, 1944, at 1445hrs three B26 Marauders took off from Toome on a Gunnery Training Mission. 2nd Lt Richard A. Newman flew the lead plane No. 025. The right wingman flying aircraft No. 054 was 2nd Lt Eugene G. Wegman and the left wingman flying aircraft No. 41-18150 a B26b-4 was 2nd Lt Howell C. Osborne, Jr.

Weather on that day was described as visibility four miles, Stratus clouds at one thousand feet, overcast with breaks, reported haze. At approximately 1530 hrs Lt. Osborne's plane started to lag behind the formation, disappeared into the clouds, and subsequently crashed into Chimney Rock Mountains, Newcastle, North Ireland. All five on board were killed. The crew was buried in the Lisnabreeny Former American Military Cemetery in England. The cemetery closed in 1948 and his remains were exhumed and transferred.

The crew of the B26B-4 #41-18150 were as follows:

2nd Lt Howell C. Osborne Jr (Pilot) ID: 0-685276 (Fort Smith, Arkansas)
2nd Lt Chester M. Turner (Co-Pilot) ID: 0-753462 (Cowley County, Kansas)
Staff Sgt Roy R. Cappe Jr (Aerial Engineer) ID: 13041696 (Allegheny County, Pennsylvania)
Staff Sgt William J. Devenney (Radio Gunner) ID: 33367015 (Carbon County, Pennsylvania)
Sgt Jimmie Gyovai (Engineer Gunner) ID: 15337609 (Boone County, West Virginia)

SGT Gyovai is buried now in the Saint Nicholas Cemetery, Aurora, Kane County, Illinois, USA.
Source of information: www.findagrave.com, http://www.chimneyrockb26crash.com