Monuments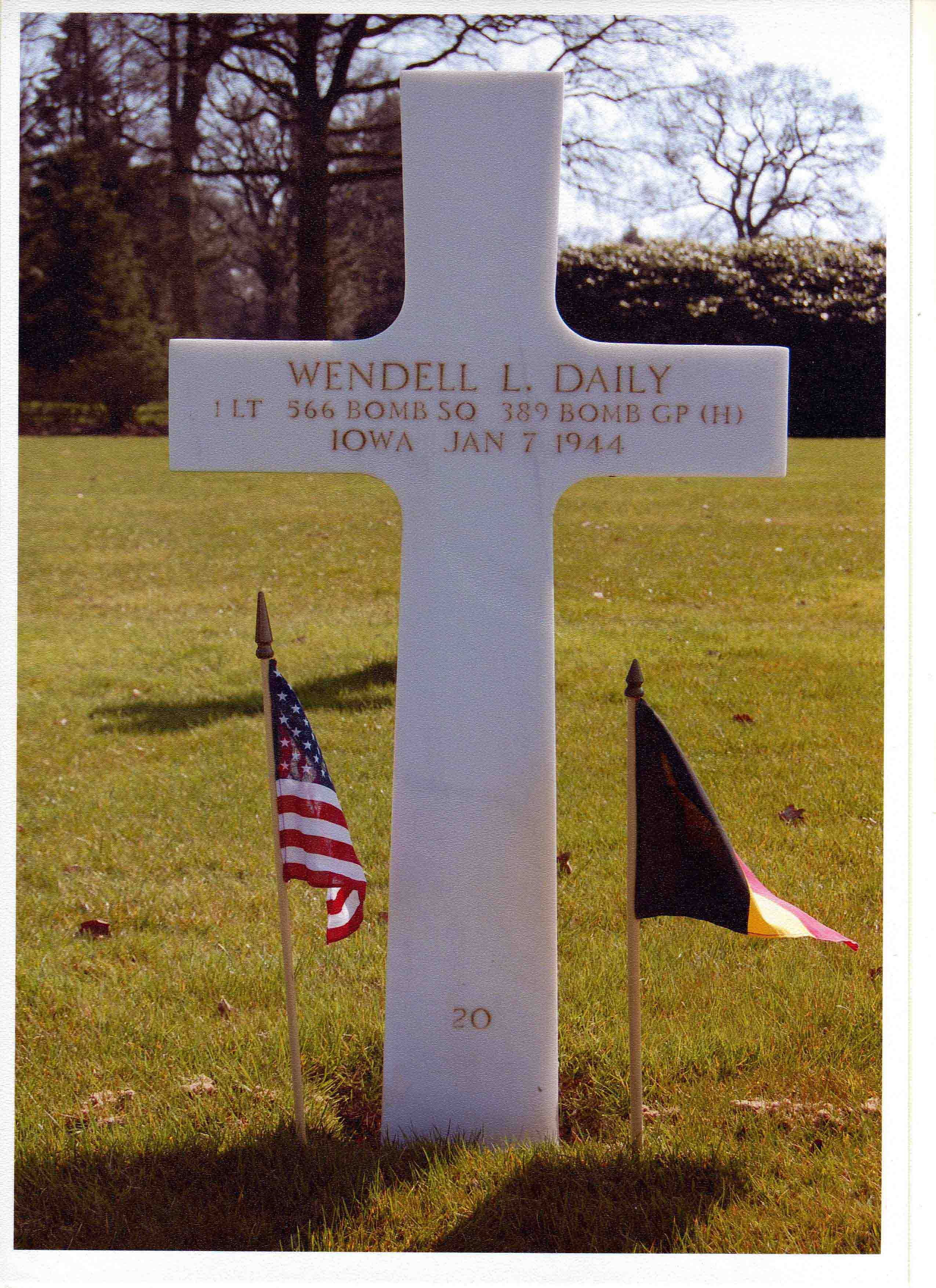 Name:
Wendell LeRoy Daily
Unit:
566th Bomber Squadron, 389th Bomb Group, Heavy
Date of Death:
1944-01-07
Cemetery:
Ardennes American Cemetery, Neupré, Belgium
Decoration:
Distinguished Flying Cross, Air Medal with Oak Leaf Cluster, Purple Heart
Comments:
Wendell Leroy Daily was born on October 27, 1916 in Benton County, Iowa. He was the son of Robert H. Daily and Maude E. Hiser Daily. 1LT Daily was a co-pilot of the B-24 Liberator 42-41013 "Trouble" when it took off from Station 114 in Hetel, Norfolk, UK on a mission to bomb the German town of Ludwigshafen. The mission was a success, but the bombers picked up a pack of German fighters over Chateauneuf-sur-Loire at 1300 hours. The "Trouble" was attacked at 21,000 feet by rocket-equipped Fw-190 fighters. The cockpit and right wing were hit. Ablaze, the bomber dropped out of formation. Only Sgt Sweatt, Lt Daily, and a third unidentified crew member were able to jump. Sweatt escaped but Daily was shot before he hit the ground. The crew members' bodies were never found by the local population. However, someone did for they were recorded as buried in the Saint-Chéron de Chartres cemetery. On March 12th, 1944 at 10 am Mr Broutin found an unidentifiable corpse in the woods of Bouville, no doubt the third aviator who bailed out. 1LT Daily is now buried in the Ardennes American Cemetery, Neupré, Belgium.