Monuments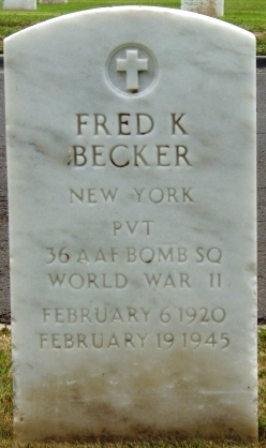 Unit:
36th Bomber Squadron, 801st Bomb Group, Heavy
Date of Death:
1945-02-19
Cemetery:
Fort Rosecrans National Cemetery, San Diego, California
Comments:
Fred K. Becker was born on February 6, 1920. He resided in Erie County, New York prior to the war. He served in the 36th Bomber Squadron, 801st Bomber Group, Heavy, as a Private and Ball Turret Gunner on the B-17 #42-50385 "Beast of Bourbon" during World War II.

On the 19th Feb 1945, their plane took off from USAAF Base Cheddington ST113 at 09:16 but just half a mile west of runway 26 due to weather conditions and instrument failure, the Liberator came down just missing a row of cottages in the village of Long Marston. The B24 had plowed through two hedges crossed Astrope Lane then took out two trees before coming to rest in the center of a field being used for cattle grazing. Onboard were ten crew members and an extra Navigator as it was his check ride! After the crash, Navigator 1Lt John D Howarth managed to get out and run but returned to get his buddies out, he knew it was very risky but had to do it, 7 minutes later the B24 was set on fire with 3 of the crew still trapped then perished in their plane.

Pvt Becker was one of the men who perished. He is now buried in the Fort Rosecrans National Cemetery, San Diego, San Diego County, California, USA.
Source of information: www.findagrave.com, www.usmilitariaforum.com