Monuments
B-17 42-3544 'Stars and Stripes' Plaque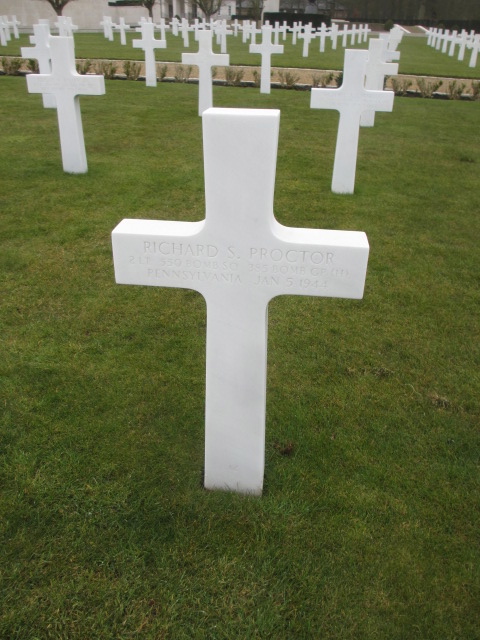 Unit:
550th Bomber Squadron, 385th Bomber Group, Heavy
Date of Death:
1944-01-05
Cemetery:
Cambridge American Cemetery, United Kingdom
Decoration:
Air Medal with Oak Leaf Cluster
Comments:
Richard S. Proctor was born in 1920. He resided in Pennsylvania prior to the war. He enlisted in the Army Air Corps on January 30, 1942, in Philadelphia, Pennsylvania. He was noted, at the time of his enlistment, as being Single, without dependents.

Richard served in the 550th Bomber Squadron, 385th Bomber Group, Heavy, as a Second Lieutenant and Navigator of the B-17 #42-3544 'Stars and Stripes' during World War II. He was Killed in Action on January 5, 1944, when his B-17 crash-landed at Badwell Ash, Suffolk, England, while attempting to reach their base after the aircraft was severely battle damaged on a bombing mission over Bordeaux, France. Seven of his crewmates were also Killed In Action, only the tail gunner survived.

2Lt Proctor is now buried in the Cambridge American Cemetery, Cambridge, United Kingdom.
Source of information: www.findagrave.com, www.abmc.gov