Monuments
B17 42-30821 'The Sweetest One' Plaque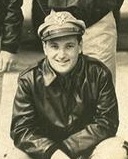 Name:
Henry Beach Johnson
Unit:
407th Bomber Squadron, 92nd Bomb Group
Date of Death:
1943-11-13
Cemetery:
Cambridge American Cemetery, United Kingdom
Comments:
Henry Beach Johnson was born on November 12, 1917, in Beaver County, Pennsylvania. He entered the service in California and served in the 407th Bomber Squadron, 92nd Bomber Group, Heavy, as a Second Lieutenant and Bombardier on the B17 #42-30821 'The Sweetest One' during World War II. He was Killed in Action on November 13, 1943, when his plane crashed near the village of Burton Dassett in England during a mission to Bremen. All ten airmen on board were killed. 2Lt Johnson is now buried in the Cambridge American Cemetery, Cambridge, United Kingdom.