Monuments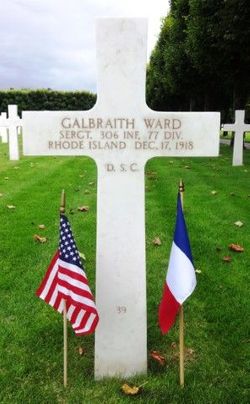 Unit:
306th Infantry Regiment 77th Division
Date of Death:
1918-12-17
Cemetery:
Meuse-Argonne American Cemetery and Memorial Romagne-sous-Montfaucon, France
Decoration:
Distinguished Service Cross
Comments:
Galbraith Ward, Class of 1915, Princeton.
Sergeant, Company M, 306th Infantry Regiment. Awarded Distinguished Service Cross for heroism and bravery for rescuing wounded soldiers. Died of pneumonia on December 17, 1918. His brother, Corporal Marquand Ward, 312th Infantry Regiment, Class of 1917, had been killed in action two weeks earlier, October 18, 1918. The brothers are interred next to each other in the Meuse-Argonne American Cemetery.

From Find a Grave:
Born August 9, 1892, in Newport, Rhode Island. Son of Judge Henry G. and Mabel Marquand Ward. Educated Allen School, New York City; St. George's School, Newport, and Princeton University, Class of 1915. Joined American Field Service, December 2, 1916; attached Vosges Detachment to June 2, 1917. Returned to America. Enlisted U. S. Infantry, September, 103d Regiment. Plattsburg Camp, and Camp Upton. To France with 77th Division, 306th Regiment. Promoted to Corporal and Sergeant. Died of pneumonia, December 17, 1918, at Château Vilain. Buried Château Vilain, Haute-Marne. A great great grandson of Major-General Artemas Ward. ----- DSC Citation: The President of the United States of America, authorized by Act of Congress, July 9, 1918, takes pride in presenting the Distinguished Service Cross (Posthumously) to Sergeant Galbraith Ward (ASN: 1703569), United States Army, for extraordinary heroism in action while serving with Company M, 306th Infantry Regiment, 77th Division, A.E.F., near Mont-Notre-Dame, France, 10 September 1918. Voluntarily accompanying an officer and enlisted man of his battalion in a search of the Bois-de-Chandriere for the survivors of a battalion which had been relieved from its position in the line, Sergeant War crossed an open field under terrific enemy fire a distance of 600 yards under constant observation of the enemy, sought and found several survivors, and led them back to his own lines. Sergeant Ward was severely wounded in the performance of this hazardous duty and died of pneumonia shortly thereafter.