Monuments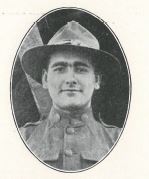 Name:
Alfred Otho English
Unit:
112th Engineers, 37th Infantry Division
Date of Death:
1918-12-03
Cemetery:
Terlincthun British Cemetery Wimille, Departement du Pas-de-Calais, Nord-Pas-de-Calais, France
Comments:
Alfred English was born on June 12, 1899 in Circelville, Ohio. He served in the 112th Engineers, 37th Infantry Division in World War 1. He died of Spanish Flu on December 3, 1918.
From Find a Grave:
Son of William English & Florence English Brother of Mary; Alice; Lewis; Hazel Single. Member of United Brethren Church, Lancaster Ohio. Student at Circleville Public Schools; Pickaway Centralized School and Ashville High School. Shoe factory worker by occupation. Enlisted at Lancaster Ohio Sept. 8, 1917. Member of Co. D. 7th Ohio Inf. Pleasantville. Later went to Camp Sherman, Camp Lee and Hoboken NJ. Private in Co. C, 112th US Engineers. Sailed from Newport News VA on June 22, 1918 and landed in Brest France. Died in Belgium after attack of influenza which developed into pneumonia.
Buried at British military cemetery at Terlincthum, Boulogne, France.