Monuments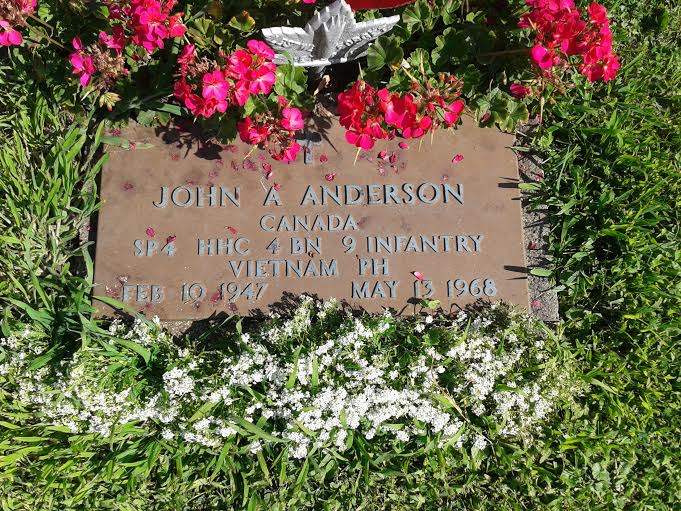 Name:
John Austin Anderson
Rank:
Specialist 4th Class
Date of Death:
1968-05-13
Cemetery:
Victoria Lawn Cemetery, St. Catharines, Niagara Regional Municipality, Ontario, Canada
Comments:
John Austin Anderson was born on February 10, 1947, in Thorold, Ontario, Canada. He was the son of Mr. & Mrs. Donald M. Anderson of Williamsville, New York. John lived in Fort Erie until moving to the United States and was a former Buffalo Evening News carrier before he enlisted in the Army in October 1968. In Vietnam, he served with HHC Company, Communications platoon, 4th Battalion, 9th Infantry, 25th INF DIV, USARV.

On the evening of May 13, the communication relax complex operating on Nui Ba Den (Black Virgin Mountain) in Tay Ninh Province was attacked by enemy sappers. Following a barrage of mortar fire on the mountaintop compound, the enemy breached the perimeter and proceeded to destroy the communication relay facilities with satchel charges. The troops managed to force the enemy into retreat, suffering nineteen men killed in the action. One of the casualties, first reported as missing in action, was SP4 Anderson, who was killed as a result of multiple fragmentation wounds.
Source of information: www.findagrave.com