Monuments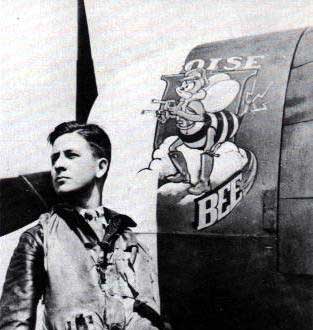 Name:
Duane Willard Beeson
Unit:
334th Fighter Squadron, 4th Fighter Group
Date of Death:
1947-02-13
Cemetery:
Arlington National Cemetery, Arlington, Virg
Decoration:
Distinguished Service Cross, Silver Star, Distinguished Flying Cross with S
Comments:
United States World War II Flying Ace. He was born on July 6, 1921 in Boise, Idaho, graduating from Boise High School in 1939. He enlisted in the Royal Canadian Air Force in 1941. He transferred to the Royal Air Force as a member of the American Eagle Squadron in England in April 1942. He had over 300 flying hours when he transferred to the American Army Air Forces in September 1942, joining the Fourth Fighter Group, Eighth Air Force. There he was fellow pilot Don Gentile's rival in the Eighth Air Force's first 'Ace Race' aiming at beating the World War I ace Eddie Rickenbacker's record of 26 enemy aircraft downed. Among the many types of planes he flew were the Hurricanes, Spitfires, Thunderbolts and Mustangs. All of his planes except one was called the "BOISE BEE". He was promoted to CO of the 334th Squadron on March 15, 1944. He was credited officially with downing 25 enemy aircraft. After flying 150 missions, he was the second ranking ace at the time of his being shot down over Germany on April 5, 1944. He was imprisoned in Stalag No. 1 prison camp at Barth, Germany for 13 months. He was liberated by the Russian Army at the end of the war on April 19, 1945. He returned to the United States, training in a new mode of flight, the jet aircraft. Sadly he developed a brain tumor and was told he needed to go to Walter Reed Army Medical Center in Washington D.C. for an operation. Unfortunately as the plane that was carrying him was landing at Andrews Air Force Base near Washington D.C., he died. He had intended to remain in the service of his country with the new branch of the service, the United States Air Force. He had already been issued a commission as a Lieutenant Colonel in the Air Force.