Monuments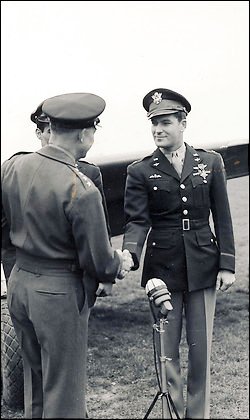 Name:
Donald James Matthew Blakeslee
Unit:
335th Fighter Squadron, 4th Fighter Group
Date of Death:
2008-09-03
Cemetery:
Arlington National Cemetery, Arlington, Virg
Decoration:
Distinguished Service Cross˙(2), Silver Star (2), Legion of Merit, Distingu
Comments:
Born September 11, 1917 in Fairport Harbor, Ohio. After training in Canada, Blakeslee arrived in England on May 15, 1941, where he was assigned to No. 401 Squadron RCAF. Blakeslee had studiously avoided being part of the American volunteer Eagle Squadrons, claiming "they played sister in making their claims." But when told he would be assigned to be an instructor pilot, he finally volunteered to be sent to No. 133 (Eagle) Squadron RAF as its Commanding Officer, which was the only way he could remain on combat status. On September 12, 1942, the 71, 122, and 133 Squadrons were "activated" as the USAAF's 4th Fighter Group, operating from a former RAF field at Debden. After a few months flying Spitfires, the group was re-equipped with the new Republic P-47 Thunderbolt. On April 15, 1943 Blakeslee claimed an FW-190 for the group's first P-47 "kill", and claimed a further FW-190 on May 14, 1943, both near Knocke. Leading the 335th Squadron of the 4th FG, Blakeslee flew the group into Germany for the first time on July 28. Towards the end of the year Blakeslee led the group more often, and developed a tactic of circling above any air battle and directing his fighters as necessary. Don Blakeslee was finally grounded in September 1944, after the loss of several high scoring USAAF aces. He had accounted for 15.5 kills in the air and 2 more on the ground. He had flown over 500 operational sorties and accumulated 1,000 combat hours. Blakeslee retired from the United States Air Force in 1965 with the rank of Colonel. After retiring, Blakeslee lived in Miami, Florida. Blakeslee married Leola Fryer. On Friday September 18, 2009, Colonel Don Blakeslee and his wife's ashes were interred at Arlington National Cemetery.