Monuments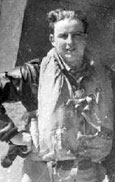 Unit:
334th Fighter Squadron, 4th Fighter Group
Date of Death:
1943-05-18
Cemetery:
Henri-Chapelle American Cemetery, Henri-Chap
Decoration:
Distinguished Flying Cross, Air Medal with 3 Oak Leaf Clusters, Purple Hear
Comments:
Killed in action in the North Sea off the coast between Knocke and Blankenberghe, Belgium, shot down into the sea. FROM American Air Museum Britain:
Assigned to 71 [Eagle] Sqn RAF. Transferred to 335FS, 4FG, 8AF USAAF. Ditched in North Sea due to mechanical failure on 26-Jan-43 (Returned To Duty - RTD). On 6-Apr-43, smoke in the cockpit forced a landing 3.5 miles off the coast of North Foreland, UK. (Returned To Duty - RTD). Two of his 3 confirmed kills were gained in Spitfires. On 18-May-43, his P-47 41-6405 was shot down by fighters and crashed into the sea between Knokke and Blankenberge, Belgium. Killed in Action (KIA). He is still listed as Missing In Action (MIA), as his remains were never recovered. Awards: DFC, AM (3OLC), PH.