Monuments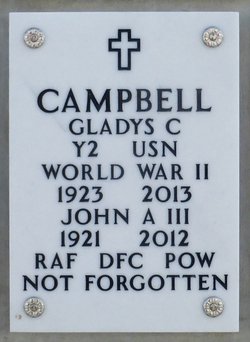 Name:
John Acy III Campbell
Unit:
121st Eagle Squadron
Date of Death:
2012-08-01
Cemetery:
Rosecrans Memorial Facility, San Diego, Calif
Comments:
Born 21 November 1920. Married to Gladys Campbell. Campbell stayed in the RAF the entire war and flew Hurricanes in the southeast Pacific, was shot down over Java on March 1, 1942. He spent the rest of the war in a Japanese POW camp. A biography was published about his extraordinary life: "Where Eagles Fly...Uncensored."