Monuments
Flygmonumentet (Project Sonnie)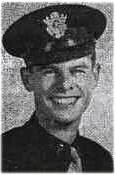 Unit:
330th Bomber Squadron, 93rd Bomber Group
Date of Death:
1944-10-20
Cemetery:
Tylertown Cemetery, Tylertown, Mississippi
Decoration:
Purple Heart, Silver Star, Distinguished Flying Cross, with two oak leaf cl
Comments:
Born August 10, 1918. Truett Bullock was a native of Tylertown, where he graduated from the high school in 1936. He was an all-round athlete and lettered in several high school sports. He also rated high in scholastic work and in the music department of the school. He entered Holmes County College at Goodman, in 1936. There he was an outstanding athlete in football and track. Graduating from the college in the spring of 1939, he entered the University of Alabama the fall of the same year. At the University of Alabama he was a member of the "A" Club and gained a southwide reputation as a track star. He was a member of Pi Kappa Alpha fraternity. He joined the Air Force while still a student at the University of Alabama. At the completion of his training in various army bases, he went overseas in May of 1943. He flew from bases in England and Scotland until the time of his death. He had been scheduled to go home on furlough; then he learned of the need of a crew for this flight and volunteered to do it. He died in the crash of a B-24 over Alingsås, Sweden. Many thanks to www.flygmonumentet.se/e for use of their copyrighted photos and text. Please contact them for further information.