Monuments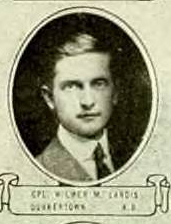 Unit:
316th Infantry Regiment, 79th Division
Date of Death:
1918-10-11
Cemetery:
Union Cemetery, Quakertown Pennsylvania
Comments:
Wilmer M. Landis was born on July 6, 1888, a graduate of Princeton University, Class of 1913. He served as a Corporal in Company A, 316th Infantry Regiment during World War II. He was Killed in Action on November 10, 1918 at the age of 30 and is now buried in the Union Cemetery, Quakertown, Bucks County, Pennsylvania, USA.