Monuments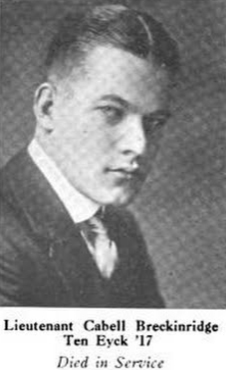 Name:
Cabell Breckinridge Ten Eyck
Unit:
11th Infantry Regiment, 5th Infantry Division
Date of Death:
1918-01-10
Cemetery:
Oakland Cemetery, Yonkers, New York
Comments:
Nabell Breckingridge Ten Eyck was born in 1895. He was graduated from Princeton University, Class of 1917. He died in 1918 and is now buried in the Oakland Cemetery, Yonkers, Westchester County, New York, USA.