Monuments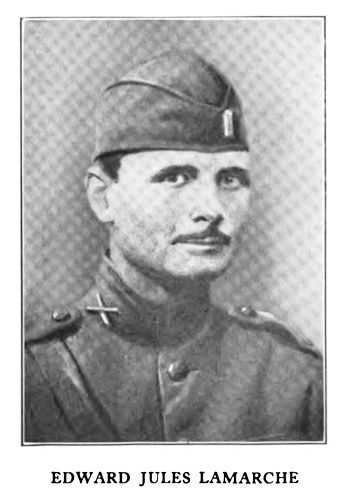 Name:
Edward Jules Lamarche
Unit:
15th Field Artillery Regiment, 2nd Division
Date of Death:
1918-07-12
Cemetery:
Arlington National Cemetery, Virginia
Comments:
Edward Jules Lamarche was born on May 1, 1893 in New York. He was a graduate from Princeton college, Class of 1915. Edward enlisted on June 22, 1916, in Troop C, Squadron A Cavalry, New York City. He served with the Squadron A on the Mexican Border from June 1916 - Dec. 1916. He attended the First Officer Training Corps course, at Plattsburg and was commissioned 2nd Lieutenant on Aug. 15, 1917; assigned to 15th Field Artillery, 2nd Division. He saw combat in the Troyon Sector; Aisne Defensive: Chateau - Thierry Sector: Aisne - Marne Offensive: Marbache Sector; St. Mihiel Offensive; Meuse - Argonne Offensive. He served in the Army of Occupation, in Germany. 1Lt Lamarche died on July 12, 1919 at the age of 26 at Coblenz, Germany and is now buried in the Arlington National Cemetery, Arlington, Arlington County, Virginia, USA.