Monuments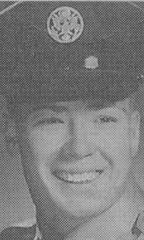 Name:
Patrick Lee Shannon
Unit:
1st Combat Evaluation Group
Date of Death:
1968-03-11
Cemetery:
Resurrection Memorial Cemetery, Oklahoma City
Comments:
Tech. Sgt. Patrick L. Shannon of Owasso, Oklahoma and 18 other servicemen operated a radar installation atop Pha Thi Mountain in Houaphan Province, Laos, approximately 13 miles south of the border with North Vietnam. The site, known at Lima Site 85, directed U.S. bombing missions toward key targets in North Vietnam. In the early morning the site came under attack by a force of North Vietnamese commandos. The enemy force had scaled the sheer mountainsides in the hours before the attack and overran the site. During the attack, some Americans made their way down to ledges, but survivors reported that several were killed. Several hours later, U.S. aircraft attacked enemy positions around the site, enabling helicopters to rescue eight of the 19 Americans, although one of the survivors died en route to a base in Thailand. Later that day, and for four additional days, U.S. air strikes bombed the site to destroy technical equipment left behind. Others In Incident: Clarence Blanton; James Calfee; James Davis; Henry Gish; Willis Hall; Melvin Holland; Herbert Kirk; David Price; Donald Springsteadah; Don Worley (all missing from Lima 85); Donald Westbrook (missing from SAR 13 March) Pat was born to Clyde B. and Jeannette Dobbs Shannon and graduated from high school in Cordell, Oklahoma in 1953. He joined the Air Force in 1954 and married Amelda M. Zawisza and lived in Oklahoma City. He became missing in action in 1968. His remains were found in Laos in late 2003. He is listed on the Vietnam Veteran's Memorial at panel 44E, line 21.