Monuments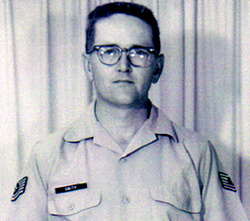 Name:
Lowell Vetter Smith
Unit:
1st Combat Evaluation Group
Date of Death:
1968-02-24
Cemetery:
Matney Liberty Cemetery, Matney North Carolin
Comments:
TSGT Lowell Vetter Smith, Korean War Veteran, Vietnam War Veteran, Born in Shawneehaw Township, he became a native of Banner Elk, NC. Technical Sergeant Lowell Vetter Smith was a casualty of the Vietnam War. As a member of the Air Force, TSGT Smith served our country until February 24th, 1968 in Gia Dinh, South Vietnam. He was 34 years old and was married. It was reported that Lowell died from artillery fire. His body was recovered. Lowell was born on October 23rd, 1933 in Shawneehaw Township, Watauga County, North Carolina. TSGT Smith is on panel 41E, line 012 of the Vietnam Memorial Wall in Washington D.C. He served our country for 16 years.