Monuments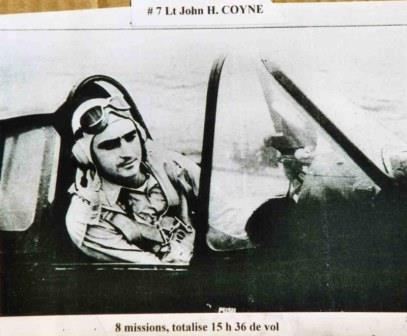 Rank:
Lieutenant (Junior Grade)
Date of Death:
1944-08-21
Cemetery:
Epinal American Cemetery, Epinal, France
Decoration:
Purple Heart, American Air Campaign Ribbon, Air Medal, European Africa Midd
Comments:
Lt (jg) John H. Coyne took off from the USS Tulagi at 1315 in his Grumman F6F Hellcat 582638 on a bombing mission on the Rhones river as part of an 8-plane wing. After strafing some barges, Coyne and another pilot were detached to investigate Grenoble's surroundings. Around 1420 Coyne strafed a convoy near Sainte-Anatasie. Due to the low altitude, return fire disintegrated his plane. He bailed out at 600 feet, his parachute opening a mere seconds before hitting the ground, landing him right next to the troops he had just strafed with considerable injuries. His body was left there for a week, as the locals thought it came from a German plane. He was initially buried at Nimes then Luynes before finally resting at Epinal.