Monuments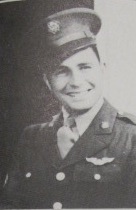 Unit:
526th Bomber Squadron, 379th Bomb Group, Heavy
Date of Death:
1943-05-29
Cemetery:
Pecan Grove Cemetery, McKinney, Texas
Comments:
SSgt George F. Hague, right waist gunner of the B-17 42-29773 "Up and At Them", took off from Kimbolton in Cambridgeshire, UK on a bombing run over Saint-Nazaire's "Flak Alley". They were shot down by AA fire and German fighters, crashing around 1712. Hague crashed with the plane.