Monuments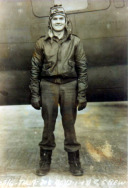 Unit:
423rd Bomber Squadron, 306th Bomb Group, Heavy
Date of Death:
1943-02-16
Cemetery:
Zachary Taylor National Cemetery, Louisville,
Comments:
SSgt Colon E. Neeley, left waist gunner of the B-17 42-5717, took off from Thurleigh in Bedfordshire, UK on a bombing mission over Saint-Nazaire's "Flak Alley". They were harassed by enemy fighters and flak until they crashed around noon. Neeley died from 20mm shells.