Monuments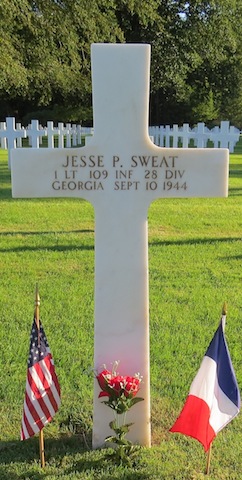 Unit:
109th Infantry Regiment, 28th Infantry Division
Date of Death:
1944-09-10
Cemetery:
Epinal American Cemetery
Comments:
Jesse Sweat was born in 1917 and is remembered at a memorial in Eschweiler, Belgium where he fell in battle. FROM FIND A GRAVE: His division the 28th was originally a Pennsylvania National Guard unit. Their division patch was the Keystone for the Keystone State. The patch was red in color and the Germans after the bloody fighting in the Huertgen Forest called the division "The Bloody Bucket". They can best be described as a 'hard luck' outfit as after the horrendous casualties they suffered in the Huertgen Forest they were moved to the a quite area in Luxembourg. They were in fact in the direct line of attack by the Germans at the start of the Battle of the Bulge. Were it not for their stand which is described in a book 'Alamo in the Ardennes" the Germans would have taken Bastogne. After the heavy fighting there they were reconstituted and send south to Alsace where they would again take heavy casualties in the final push to take the Colmar Pocket and captured the city of Colmar. His division would march down the streets of Paris on 29 Aug 1944 and then go north to Belgium where he would be killed shortly after. There were no temporary cemeteries in Belgium at that time so his body was brought back to a temporary cemetery at Solers which lies SE of Paris. It would remain there until transferred to the permanent cemetery at Epinal.