Monuments
Cpt William E. Johnson Jr. Plaque
Cpt William E. Johnson Jr. Monument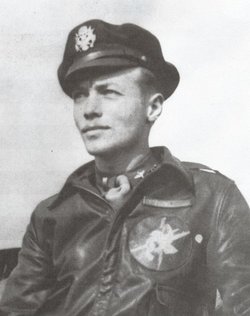 Name:
William E., Jr. Johnson
Unit:
360th Fighter Squadron, 356th Fighter Group
Date of Death:
1944-04-10
Cemetery:
Chestnut Hill Cemetery, Portville, New York
Comments:
William E. Johnson, Jr. was born on January 8, 1921, in Olean, New York. He was the son of Maude Ellen Silfies Robinson. He was married to Ruth Jane Smith Lowe.

Before he enlisted in the United States Army Air Forces, he was employed at the Olean Tile Company. He received training in various camps in the United States and was commissioned at Marianna, Fla., in January 1943.

He sailed for overseas duty in September 1943 and was based in England. He flew mainly missions over France and Germany and was killed on April 10, 1944, while serving with the 360th Squadron, 356th Fighter Group. On that day, 1Lt Johnson took off from airfield Station 369 in Martlesham Heath, England, on an escort of a B-24 Liberator in the Tours, France, sector. The mission was 40 minutes behind schedule when the escorts were attacked by German fighters at 1100 while flying 2000 feet above the bombers. Diving with his wingman to avoid the attack, Cpt Johnsonís plane was shot up enough for him to try and bail out. His airplane, P-47 #42-74639, crashed near the castle of St-Hilaire in the town of Colonard-Corubert (2 km southeast) - 7 km northeast of BellÍme, probably shot down by an ME 109 fighter at 11:16 AM. Although he got his parachute open, it caught in the fuselage, dragging him to death. He had two aerial and two ground kills prior to his death.

Cpt Johnson's remains were initially buried in the Chartres military cemetery before being extradited to the US in 1946. He is now buried in the Chestnut Hill Cemetery, Portville, Cattaraugus County, New York, USA.
Source of information: www.findagrave.com, francecrashes39-45.net