Monuments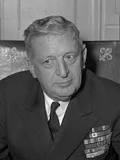 Date of Death:
1972-09-15
Cemetery:
US Naval Academy Cemetery, Annapolis, MD
Decoration:
Navy Cross w/1GS, Navy DSM w/1GS, Army DSM w/1OLC
Comments:
Born 11 Feb 1887 in Hackensack, NJ. US Naval Academy 1906. Most famous for commanding forces during the invasions of Sicily, Italy, and Southern France. Retired from the Navy in 1949. Died in 1972 in Middlebury, Vermont at 85 years of age.