Monuments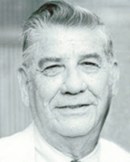 Unit:
326th Bomber Squadron, 92nd Bomb Group
Date of Death:
2012-03-23
Cemetery:
San Fernando Cemetery II, San Antonio, Texas
Comments:
Borm in San Antonio, Texas on 7 September 1916 Son of Robert W. and Guadalupe Trevino Purdom. Graduated from Brakenridge High School and St. Mary's University with a degree in business. Joined the New Mexico National Guard Cavalry as a teenager before joining the Army Air Corp for WWII. Navigator for the B-17 42-30646 when it was shot down on 4 October 1943. Taken as POW after parachuting into Weisbaum. Was a POW for 22 months. Married Olga Margaret Garza on 25 May, 1946. Later served in the Philippines during the Korean conflict, before starting a civilian career. Latest job was in accounting and procurement with Security Service at Kelly Air Force Base. Had one son, Robert W. Purdom II,I and one daughter, Andrea F. Purdom.