Monuments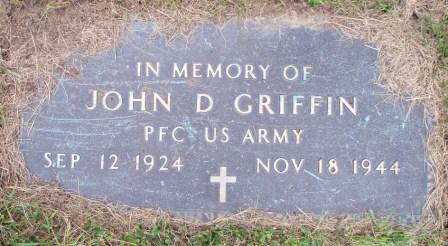 Rank:
Private First Class
Unit:
378th Infantry Regiment, 95th Division
Date of Death:
1944-11-18
Cemetery:
Lorraine American Cemetery, St Avold, France
Decoration:
Silver Star, Purple Heart
Comments:
When John D. Griffin was born on September 12, 1924, in Shenandoah, Pennsylvania, his father, Mark, was 30 and his mother, Jennie, was 23. He had one brother and two sisters. He served in the U.S. Army during World War I as a Private First Class in the 378th Infantry Regiment, 95th Infantry Division. He was Killed in Action on November 18, 1944 and is now buried in Lorraine American Cemetery and Memorial, Saint-Avold, Departement de la Moselle, Lorraine, France. His name is inscribed on the plaque as John C. Griffin. He also has a marker in Old Saint Joseph's Cemetery, Frackville, Schuylkill County, Pennsylvania, USA.