Monuments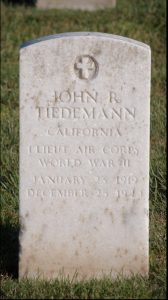 Unit:
565th Bomber Squadron, 389th Bomb Group
Date of Death:
1944-12-25
Cemetery:
Golden Gate National Cemetery, San Bruno, Cal
Comments:
Born on 23 Jan 1919, Tiedemann was the Navigator of the B-24 ôKing Size, 42-50612, which took off from Hethel Airbase in England on a mission to bomb an industrial zone in Wahlen-Kall, Germany. After successfully dropping their bombs, the King Size was attacked by German fighters and went into a spin and started burning. This caused them to fall behind their formation, and they were attacked again and crashed. Of the crew of nine, only two survived. Tiedemann went down with the plane and perished in the crash.