Monuments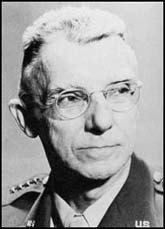 Name:
Joseph Warren Stilwell
Unit:
7th Infantry Division
Date of Death:
1946-10-12
Decoration:
Distinguished Service Cross, Army Distinguised Service Medal
Comments:
General Joseph Stilwell was born on March 19 1883 in Palatka Florida. He taught at West Point and was a four star general most celebrated for his service in China and Burma. From 1935 to 1939 he served as military attache in Beijing. He was also known by his nicknames "Vinegar Joe" and "Old Two Shirts."