Monuments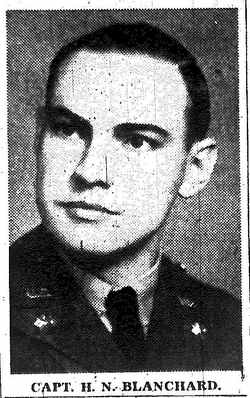 Unit:
9th Infantry Division
Date of Death:
1944-06-17
Cemetery:
Ardennes American Cemetery, Neupre, Belgium
Decoration:
Bronze Star, Purple Heart
Comments:
Henry was born in Mobile, Alabama, September 18, 1917, the son of Chaplain and Mrs. Henry N. Blanchard. He was an Army brat, so lived in many parts of the country while growing up. After high school he attended the University of Hawaii for a year, and from there enlisted in the Army. He qualified for the USMA Prep school, and graduated in the West Point class of 1941. He was commissioned in the Signal Corps and assigned to the 9th Infantry Division. He served in Tunisia and Sicily before being assigned to England. There he married Violet Joan Margaret Russell of Winchester, England, who was a Major in the MTC, a British Volunteer Service. Their son was born on 2 February 1945, but Henry never met him. Henry was killed while on a reconnaissance mission in Normandy on 17 June 1944.