Monuments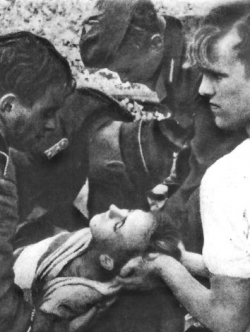 Name:
Johannus J. Bergmen
Unit:
113th Cavalry Reconnaissance Squadron
Date of Death:
1944-09-02
Cemetery:
Oak Hill Cemetery, Parkersburg, Iowa
Comments:
Killed during the liberation of Cantaing-sur-Escaut by German machine gun fire while he was protecting the child Gustave Coquet in front of the Coquet home at 6, Grand Rue. The village held services for Bergman in the town church and temporarily buried him in the WWI British Hill Cemetery. He was repatriated for burial in his home state of Iowa in 1948.