Monuments
US-Filipino Amphibious Landing at Nasugbu Memorial
MacArthur Statue- Morotai Island Landings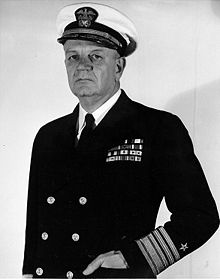 Name:
William Morrow Fechteler
Date of Death:
1967-07-04
Cemetery:
Arlington National Cemetery Arlington, Arlington County, Virginia
Plot:
Section 2, Lot 1182-1
Comments:
From the Naval History and Heritage Command Website: 13th Chief of Naval Operations (16 August 1951 - 17 August 1953) Admiral William M. Fechteler retired from active Navy duty in July 1956, after forty years of commissioned service. During that time he served in three wars, held the Navy's highest command post as Chief of Naval Operations, was a member of the Joint Chiefs of Staff, and was responsible for NATO defenses in Italy, Greece and Turkey. Born in San Rafael, California, on March 6, 1896, he was graduated from the Naval Academy in 19l6. During World War I the Admiral served aboard the USS Pennsylvania in the Atlantic Fleet. Between world wars he commanded the destroyer USS Perry, was a battleship gunnery officer, and held various destroyer staff billets. He was Chief of Staff to Rear Admiral M. F. Draemel, Commander, Destroyers, Battle Force, US Fleet, when this country entered World War II. After serving as Director of Officer personnel in the Navy Department in 1942-43, Admiral Fechteler joined the Pacific Fleet as Commanding Officer of the USS Indiana. Later in the war, as an amphibious group commander, he participated in ten amphibious operations against Japanese-held New Guinea and the Philippines. He received the Distinguished Service Medal for his work in the planning and coordination of joint assault operations in the Southwest Pacific while serving as Commander, Amphibious Group EIGHT. In 1945-46, Admiral Fechteler was Assistant Chief of Naval Personnel in Washington, DC, and after commanding Atlantic Fleet Battleship and Cruiser Forces he served for three years as Deputy Chief of Naval Operations for Personnel. He became Commander in Chief, US Atlantic Fleet, in 1950, with additional duty as the United States Representative to NATO's Planning Group. He left that assignment during the Korean War to become Chief of Naval Operations, following the sudden death of Admiral Forrest Sherman, and a member of the Joint Chiefs of Staff. In that dual responsibility he was largely responsible for the expansion of naval forces to meet the needs of the Korean conflict and for the planning of naval operations in support of the United Nations' Forces in Korea. Fechteler worked especially hard to refine command relationships between US and NATO commanders and at the same time to build up alliance naval forces. He tirelessly advocated quality of life benefits for naval personnel, including pay increases, incentive allowances, and survivors benefits. He devoted considerable attention to the Navy' program to build the first large-deck aircraft carriers of the Forrestal class and promoted the design and construction of USS Nautilus , which would be the world's first nuclear-powered submarine. He was named Commander in Chief, Allied Forces, Southern Europe, in 1953, a post he held until his retirement in July l956. After entering retired status, Admiral Fechteler continued on active duty as a member of a special committee studying security matters for the Secretary of Defense. On December 6, 1956, he was named a planning consultant in General Electric Company's Atomic Products Division, located in Washington, DC, and engaged in long-range planning in the atomic energy field. He died at the Naval Hospital, Bethesda, Maryland, on July 4, 1967.