Monuments
The Lafayette Escadrille Memorial
Sgt Ronald W. Hoskier Engraving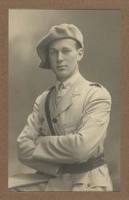 Name:
Ronald Wood Hoskier
Unit:
Lafayette Escadrille
Date of Death:
1917-04-23
Cemetery:
Lafayette Escadrille Memorial, Marnes la Coqu
Decoration:
Croix de Guerre
Comments:
Hoskier left Havard in February 1916 to serve in the Norton-Harjes Ambulance Corps, then transferred to the Foreign Legion. He earned his brevet, on Aug 13, 1916. On Dec. 11, 1916, he joined the Lafayette Escadrille.