Monuments
The Lafayette Escadrille Memorial
Sgt Ronald W. Hoskier Engraving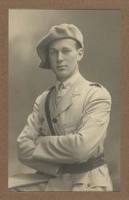 Name:
Ronald Wood Hoskier
Unit:
Lafayette Escadrille
Date of Death:
1917-04-23
Cemetery:
Lafayette Escadrille Memorial, Marnes la Coqu
Decoration:
Croix de Guerre
Comments:
Hoskier left Havard in February 1916 to serve in the Norton-Harjes Ambulance Corps, then transferred to the Foreign Legion. He earned his brevet, on Aug 13, 1916. On Dec. 11, 1916, he joined the Lafayette Escadrille.
From honor States.org: >br>He was educated at St. George's School in Newport, RI, and began college at Harvard in the fall of 1914.
At the same time, Ronald's parents traveled to France to serve in Richard Norton's Ambulance Service. Ronald spent time between semesters training to fly airplanes at Hendon, England. In February of 1916, Ronald left college to join his parents in Europe. He served first in the Norton-Harjes Ambulance Corps, then transferred to the Foreign Legion.
On Dec. 11, 1916, after several months of flying, Ronald Hoskier joined the elite "L'Escadrille Lafayette". With the Escadrille, Hoskier flew many sorties from French to German territory.
In April 1917 on the French-German line near St. Quentin, France. Hoskier flew in the rear of a small formation and became separated from other fliers, who had faster planes. When he emerged from a cloud, he spied an enemy's Albatros D III below him. He dived on it and was attacked in return.
Ronald Hoskier fought for 15 minutes, while his co-pilot manned the rear Lewis guns. When his ammunition was gone, Hoskier was struck in the head. His airplane's wings folded and the Morane struck the earth just inside French lines, near St. Quentin.
On May 1, he was posthumously awarded the Croix de Guerre. The New York Times described him as "one of the best of the American flying corps".
He was initially buried at Ham in France near fellow Lafayette Escadrille pilot Edmond Genet. His remains (as well as Genet's) were reinterred at the Lafayette Flying Corps Memorial near Paris.
The United States joined the Allied side of the war on April 6, 1917, nearly a year after Ronald Hoskier volunteered.