Monuments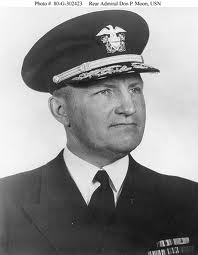 Date of Death:
1944-08-05
Cemetery:
Arlington National Cemetery, Virginia
Plot:
Section 11, Site 809
Comments:
Moon was born in Kokomo, Indiana and entered the United States Naval Academy and graduated in June 1916. He was assigned to the battleship Arizona (BB-39) and later served in the battleships Colorado (BB-45) and Nevada (BB-36). By 1934 he was commanding officer of the Asiatic Fleet destroyer John D. Ford (DD-228). He was put in command of a destroyer division in 1940 and became a captain in 1941. He took part in the invasion of North Africa in 1942. In 1944 he was promoted to rear admiral. During the 6 June 1944 invasion of Normandy he directed the landings on Utah Beach from Bayfield (APA-33). Shortly afterwards the Bayfield was sent to Naples to for the invasion of Southern France. However on 5 August 1944, Moon shot himself with his .45 caliber pistol. His suicide was blamed on battle fatigue.