Monuments
Battle of Britain London Memorial
Battle of Britain Memorial - Capel-le-Ferne
Eagle Squadron Memorial (RAF Kirton)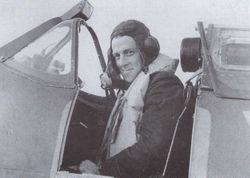 Name:
Philip Howard" Uncle Sam` or 'Zeke' Leckrone
Unit:
Eagle Squadron (RAF)
Date of Death:
1941-01-05
Cemetery:
Kirton-in-Lindsey Cemetery, Kirton in Lindsey, North Lincolnshire Unitary Authority, Lincolnshire, England
Comments:
P/O P H Leckrone: Phillip Howard `Uncle Sam` or 'Zeke' Leckrone was from Salem, Illinois and had extensive pre-war flying experience, owning his own aircraft. He travelled to Britain and enlisted in the RAF. Following Spitfire conversion training at 7 OTU Hawarden he joined No 616 Squadron at Kenley on the 2nd of September 1940 and was later posted to 71 Squadron at Church Fenton on the 12th of October 1940, to join other American volunteers in the first 'Eagle' squadron. On 5th January 1941 Leckrone was killed on a formation practice, when his Hurricane V6636 collided with P/O EE Orbison in V6983, Leckrone crashing near Scunthorpe. He was the squadron's first fatality, Orbison managed to get his damaged aircraft back to Kirton. He is buried in Kirton-in-Lindsey Burial Ground in Lincolnshire. His home town airport is called Salem-Leckrone in his honour. Background from the Battle of Britain London Memorial Website. Other: Son of William and Lottie Leckrone, of Salem, Illinois, U.S.A.; husband of Naomi J. Leckrone, of Salem. He was married to Naomi J. Leckrone. He was an experienced pilot, owning his own aircraft. Leckrone travelled to Britain in 1940 and enlisted in the Royal Air Force. Leckrone was the Squadron's first fatality.