Monuments
437th Troop Carrier Group Plaques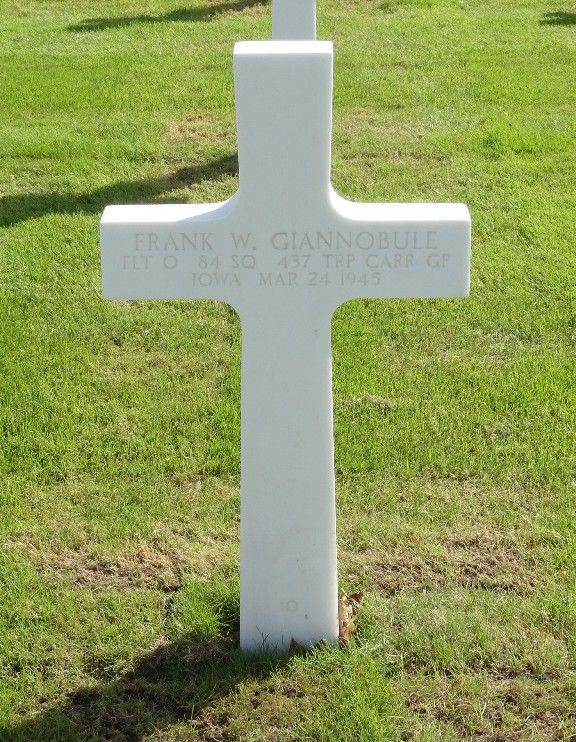 Name:
Frank W. Giannobule
Unit:
84th Troop Carrier Squadron, 437th Troop Carrier Group
Date of Death:
1945-03-24
Cemetery:
Netherlands American Cemetery, Netherlands
Decoration:
Air Medal with Oak Leaf Cluster
Comments:
Frank W. Giannobule was born on September 23, 1920 in Des Moines, Iowa. He was the son of Paul Giannobule and Mary R Giannobule. He was a graduate of Lincoln High school and entered the service in August, 1941. Frank served in the 84th Troop Squadron, 437th Troop Carrier Group as a Flight Officer and glider Pilot during World War II.

F/O Giannobule flew gliders towed behind C47 airplanes that were instrumental in delivering troops and equipment, first at D-Day and last at Wessel, Germany.

His WACO glider #43-43128 was shot down when the left wing was hit by 88mm artillery fire just outside of the landing Zone, Northeast of Wesel, Germany. All nine on board were killed. F/O Giannobule is buried now in the Netherlands American Cemetery, Margraten, Netherlands and also has a cenotaph in Glendale Cemetery, Des Moines, Polk County, Iowa.
Source of information: www.abmc.gov, www.honorstates.org