Monuments
437th Troop Carrier Group Plaques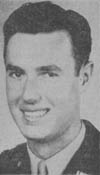 Name:
Warren Robert Miller
Unit:
85th Troop Squadron, 437th Troop Carrier Group
Date of Death:
1945-03-24
Cemetery:
Netherlands American Cemetery, Netherlands
Decoration:
Air Medal with 3 Oak Leaf Clusters
Comments:
Warren Robert Miller was born on March 2, 1920 in Crawfordville, Georgia. He served in the 85th Squadron, 437th Troop Carrier Group as a Flight Officer during World War II.

F/O Warren R Miller made a routine flight until he reached the designated drop zone. His glider was cut loose from the tow plane and crashed into the side of the house. He survived the crash and took cover under a hedgerow and unloaded the glider the next day with the help of some paratroopers.

Then he got two mines and blasted a concrete wall eight feet high to get a mobile gun on the road. He was able to get a jeep from a glider that had landed nearby and took equipment through the breach and made a road block. This helped him and other paratroopers retake the nearby town. A few days later he went to the coast and returned on a boat to England.

On March 1945, Miller was flying a mission was a double tow. Because of smoke over the LZ, they overshot our cut off point. Flak hit his right elevator. Miller and 16 other members from the 17 Airborne Division were killed by German machinegun fire after landing. F/O Miller is buried now in the Netherlands American Cemetery, Margraten, Netherlands.
Source of information: www.findagrave.com, www.abmc.gov, www.honorstates.org