Monuments
B-24J 42-51343 'Shazam' Memorial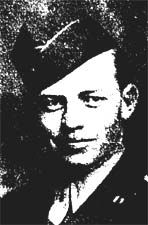 Unit:
564th Bomber Squadron, 389th Bomber Group, Heavy
Date of Death:
1945-03-07
Cemetery:
Cambridge American Cemetery, United Kingdom
Comments:
Dwayne H. Huebner was born on August 6, 1923. He was the son of Henry Theodore Huebner and Senta Adelo Vulgraf Huebner.

Dwayne served in the 564th Bombardment Squadron, 389th Bombardment Group, as a Sergeant and Gunner on the B-24J 42-51343 'Shazam' in World War II. On March 7, 1945, Shazam's crew was scheduled on a mission to bomb oil and communication facilities as well as railway marshaling yards at Soest, Germany. The weather at take-off was very bad. Clouds and icing conditions prohibited anyone from accurately observing the take-off. However, three witnesses state they saw the aircraft as it descended through the clouds. It appeared to level off, a wing separated from the aircraft, and fire broke out. The fuselage impacted the ground near Old Costessey, England, in Norfolk, and exploded. There were no survivors.

Sgt Huebner is now buried in the Cambridge American Cemetery, Cambridge, United Kingdom.

SHAZAM Crew:
1st/Lt Dale E. Williams Pilot KIA
1st/Lt. George E. Benkoy Co Pilot KIA
2nd/LT Richard K. Angert Navigator
T/Sgt. Hubert D. Pfeiffer Engineer KIA
T/Sgt. Marion J. Kaczmarek Radio Op. KIA
S/Sgt. George W. Eckelbecker Gunner KIA
S/Sgt. James V. Hill Jr. Gunner KIA
Sgt Dwayne H. Huebner Gunner KIA
S/Sgt. John A. Luther Gunner KIA
Sgt Alan E. Whitehurst Gunner KIA

His name is commemorated on a memorial located at Costessey, England, but his rank is inscribed as a Corporal.
Source of information: www.findagrave.com