Monuments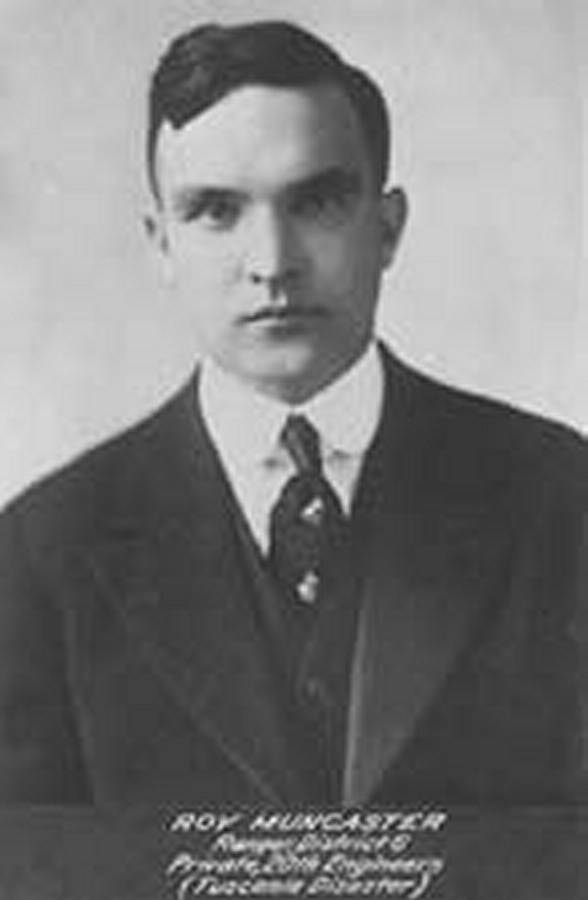 Unit:
20th Engineer Regiment
Date of Death:
1918-02-05
Cemetery:
Kilnaughton Military Cemetery, Isle of Islay, Argyll and Bute, Scotland
Comments:
Roy Muncaster was born on March 14, 1892 in Rico, Colorado.
Private Roy Muncaster served in D Company, 6th Battalion of the 20th Engineer Regiment "Fighting Foresters".
Part of the 6th Battalion of the 20th Engineers was shipped to France aboard a former British transport ship. Tuscania was torpedoed by a German U-Boat off the coast of the Isle of Islay, Ireland. Over 200 US soldiers died in the incident, 95 of them from the 6th Battalion, 20th Engineers.
After the torpedo struck, Roy Muncaster, and his fellow forester Sergeant Everett Harpham from Oregon, spent more than an hour struggling with the rope pulleys to launch lifeboats from the stricken ship for other men. Eventually they slid down a rope into what they believed to be the last boat to leave the foundering liner. They pulled away as fast as they could for fear of being sucked into the whirlpool that the Tuscania would create as she plunged to the bottom of the sea.
Harpham described the fight with the sea. 'We tried to row away, but we had drifted so near that the breakers were taking us in faster than we would row in the overcrowded boat. Muncaster was handling the oars when the boat struck the rocks and was very cool and courageous all through the terrible experience. I was very sick in the lifeboat myself and could do nothing but dip water to keep us from foundering. Just before we struck Roy slapped me on the back and said, "Cheer up Harp, we will get the Kaiser yet." That was the last I heard him say. Finally our boat struck a rock with a terrific crash and broke in a dozen pieces and after that it was every man for himself.' Later that day, Muncaster was found drowned.
(Source: WW100 Islay)
Muncaster is the only American casualty from the Great War whose body remains on the Scottish island of Islay. He was born in Rico, Colorado and at the time of enlistment worked as a forest ranger in Seattle, Washington State.
The grave is now maintained by The Commonwealth War Graves
Muncaster Mountain in Quinault, Washington is named in his memory.

The American Monument or Tuscania/Otranto Memorial is 5 kilomenters to the southwest. See this website site, Oa Clliffs, Islay for more on the Tuscania sinking.