Monuments
SSGT Madona Square- Plaque (506th PIR)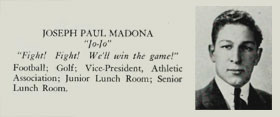 Unit:
506th Parachute Infantry Regiment, 101st Airborne Division
Date of Death:
1945-01-13
Cemetery:
Luxembourg American Cemetery and Memorial Hamm, Canton de Luxembourg, Luxembourg
Decoration:
Silver Star; Purple Heart
Comments:
Joseph P. Madona - born on March 12, 1920 in Mass.- US Army, WWII - served with the Motor Platoon, India Company, 3rd Battalion, 506th Parachute Infantry Regiment, 101st Airborne "Screaming Eagles" Division. He was killed in action, January 14, 1945 by enemy ground fire in the vicinity of Foy, Belgium while fighting in defense of Bastogne during the Battle of the Bulge. Posthumously, he was awarded a Silver Star for action on December 20, 1944. Citation: The President of the United States of America, authorized by Act of Congress July 9, 1918, takes pride in presenting the Silver Star (Posthumously) to Sergeant Joseph P. Madona (ASN: 31135592), United States Army, for gallantry in action while serving with the 506th Parachute Infantry Regiment, 101st Airborne Division. On December, 20 1944, he was in command of his squad during an attack against the enemy in the vicinity of Foy, Belgium. His unit was attacking across open terrain exposed to intense enemy fire. Enemy infantry units, supported by artillery and tanks, were entrenched on the military crest of the commanding ground that had to be taken by our forces. Seeing that machine gun fire was hindering the advance of adjacent units, Sergeant Madona exposed himself to heavy enemy fire and moved forward toward the enemy positions. Observing this action, the remainder of his squad and platoon followed him in a swift and victorious attack. On one occasion during the engagement, Sergeant Madona's rifle jammed. Swinging his rifle over his head as a club, he led his squad into and through three enemy machine gun emplacements, and captured all three guns and crews intact without losing a single man. His courage, aggressiveness, and bold determination, inspired his platoon to a swift attack that ended in opening the main highway, and enabled an isolated friendly force to withdraw down the road with their vehicles and wounded personnel. His actions were in accordance with the military traditions of the United States. General Orders: Headquarters, 101st Airborne Division, General Orders No. 26 (March 18, 1945) He is buried at the Luxembourg American Cemetery, Luxembourg City, Luxembourg. A plaque remembers him in Foy, Belgium.