Monuments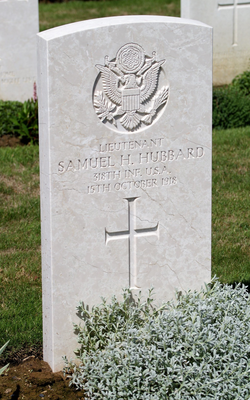 Name:
Samuel Hildreth Jr. Hubbard
Unit:
318th Infantry Regiment, 80th Division
Date of Death:
1918-10-14
Cemetery:
Terlincthun British Cemetery Wimille, Departement du Pas-de-Calais, Nord-Pas-de-Calais, France
Comments:
Samuel Hubbard was born on October 3, 1893 in Virginia.
Mr Hubbard was the head basketball and football coach as well as a teacher at the College of William and Mary. Drafted in 1917, trained at Fort Lee with the 318th Infantry. Inscription on his cenotaph at Ivy Cemetery in Coffee, Virginia: In loving memory of Samuel H Hubbard Jr, 1st Lieut 318th Inf whose body lies buried in Terlingthun cemetery near Boulogne, France. He died Oct 14, 1918 aged 25 years and 11 days, of wounds received in action the preceeding 9th of August. Source: Find a agrave.