Monuments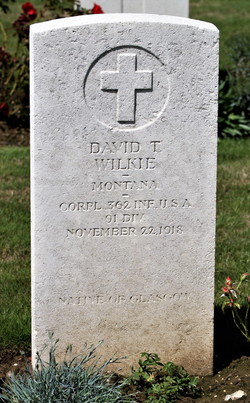 Unit:
362nd Infantry Regiment, 91st Infantry Division
Date of Death:
1918-11-22
State:
Montana (Scotland)
Cemetery:
Terlincthun British Cemetery Wimille, Departement du Pas-de-Calais, Nord-Pas-de-Calais, France
Comments:
David T. Wilkie was born in Scotland in 1891. He served with the 362nd Infantry Regiment of the 91st Infantry Division. He died, just after the war, most likely of Spanish Flu and is buried in a CWGC Cemetery.
From Find a grave:
Died of disease - likely Spanish Flu. Age 27 Corporal David T WILKIE Service Number 2261131 362nd Infantry (91st Divison) U.S. Army Son of Henry Wilkie of Glasgow, Scotland

He is also remembered on a Family headstone stands in Eastwood New Cemetery, Eastwood, Glasgow, Scotland.